In the past year, I have read four excellent books on the doctrine of Scripture. I thought I'd pass some recommendations on to you.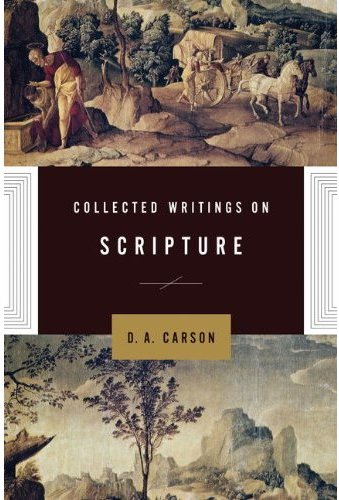 D.A. Carson, Collected Writings on Scripture, compiled by Andy Naselli (Crossway, 2010). This book brings together a variety of essays, articles, and even book reviews that Carson has written over the years. Carson deftly addresses such issues as inerrancy, hermeneutics, and the relationship between biblical and systematic theology. I had a chance to review this book for Southeastern Theological Review, and in my review, I wrote "Carson's book deserves widespread adoption in college and seminary classes and universal inclusion in pastoral and even local church libraries. It is that good. Whether read in its totality or spot-read along and along, Collected Writings on Scripture is that rare volume that is essential to any minister's bookshelf. I give it my highest recommendation."
Mark D. Thompson, A Clear and Present Word: The Clarity of Scripture, New Studies in Biblical Theology (IVP Academic, 2006). I recently read this helpful book as I was considering the best way to teach on the clarity of Scripture in my systematic theology class at First Baptist Church of Durham. Thompson discusses this perennially controversial topic from a biblical, theological, and historical perspective. He engages modern challenges raised by philosophical hermeneutics, as well as classic arguments against perspicuity raised by Roman Catholic thinkers such as Cardinal Roberto Bellarmine. He also critiques unhelpful approaches to biblical clarity that some Protestants advance, particularly versions grounded more in modern views of private autonomy than biblical theology. Thompson concludes that God has given us human language as a gift. When we read the Bible in faith and in conversation with the community of faith, we can understand the Scriptures.
Timothy Ward, Words of Life: Scripture as the Living and Active Word of God (IVP Academic, 2009). Ward's book, which I led a group of students through in my weekly Theology Reading Group, is a constructive appropriation of speech-act theory by an evangelical and inerrantist pastor-theologian. His view of Scripture is robustly Trinitarian and is in dialog with the best of the Protestant theological tradition, with emphasis on the Reformed Orthodox thinkers of the seventeenth century, the Princeton theologians of the late-nineteenth century, and the Dutch Reformed theologians of the early-twentieth century. If, like me, you like Kevin Vanhoozer's Drama of Doctrine, then I suspect you will appreciate Ward's creative restatement of the historic Protestant doctrine of Scripture.
John Webster, Holy Scripture: A Dogmatic Sketch (Cambridge University Press, 2003). Webster's short monograph was also served up to the Theology Reading Group. Webster's view of Scripture is also thoroughly Trinitarian and emphasizes the role the Bible plays in the believing community. His emphasis on the holiness of Scripture is also a welcome contribution. His chapter on how the Bible should be used in theological schools is perhaps worth the price of the book. Unlike the other authors, however, Webster is far more Barthian in his understanding of inspiration, making him hesitant to identify the very words of Scripture as God's word. Nevertheless, for the discerning (and patient) reader, Holy Scripture: A Dogmatic Sketch offers many helpful insights about Scripture, tradition, and the church.