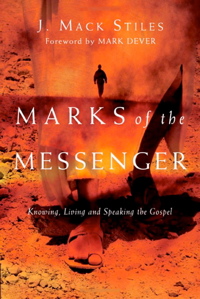 Proverbs 11:30 says, "The fruit of the righteous is a tree of life, And he who is wise wins souls" (NASB). I've been meditating a lot on this verse in recent weeks. I want to be more of a soul winner, praying that the Lord regularly works through me to help bring sinners to saving faith in Christ. I want to be more intentional about sharing the gospel, especially in the urban neighborhood where my local church gathers. I want to be an evangelistic role model to my wife, children, students, and congregation. I bet many of you share a similar burden to be more faithful in evangelism.
Professor and pastor that I am, I've also been reflecting quite a bit on evangelism books. I've just started reading Marks of the Messenger: Knowing, Living and Speaking the Gospel (IVP, 2010), written by Mack Stiles. I'm enjoying it so far. In the past four or five years, I've been blessed by several other helpful evangelism books by authors such as my SEBTS colleagues Alvin Reid and Wayne McDill, as well as works by Mark Dever and D.A. Carson. During my student days, I was influenced by the works of Will Metzger, Paul Little, Bill Hybels, and Will McRaney. There are many things I like about each of these books. I'd commend all of them to you.
I have to confess that there are some important or widely acclaimed evangelism books that I've never read. For example, I've only read bits and pieces of L.R. Scarborough's With Christ After the Lost, which is a Southern Baptist classic. I've never read Charles Spurgeon's The Soul Winner. Ditto with J.I. Packer's Evangelism and the Sovereignty of God, Robert Coleman's The Master Plan of Evangelism, and Rebecca Manley Pippert's Out of the Saltshaker and Into the World. Lots of my friends really like Randy Newman's Questioning Evangelism, though I've not gotten around to reading it yet.
I'd love to know what evangelism books you've found helpful. What did you like about them? If you could recommend one evangelism book to be read by virtually any believer, which one would it be? Please join the conversation by leaving a comment below.